WELCOME... to the official website of Mr. Entertainer, Ricky Renée
a Hollywood bombshell with lots of self irony, a well shaped body and tons of blonde hair! His humor is 'Lucille Ball', his looks 'Lana Turner' and his voice 'Dietrich'.
HOW IT ALL BEGAN... Ricky left his native Florida at the tender age of 14 to hit the bright lights of Broadway. As a child in Florida, Ricky had been dancing and singing since the age of 6. A winner of many dance contest, he also appeared in films.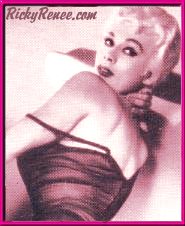 IN NEW YORK... the tough road to stardom led Ricky into jobs ranging from elevator operator to dance instructor. With money saved he studied with the famous Katherine Dunham.
THE STAR RISES... Ricky stayed with the 'Jewel Box' for a few years and then returned to New York. He put together his own show and took it all over the country. He designed his costumes, did the choreography and starred. A London producer saw the show and asked for it.
TO LONDON AND BEYOND... Ricky was a sensation in London, where he was voted one of London's "Top Ten Artists". From there he went on the continent, enjoying success after success in such places as Paris, Vienna, Rome and the French Riviera.
THE CABARET... For the past years Ricky made Europe his home. As Star of the 'Point' and 'Chez Nous' Ricky is known as 'Mr. Entertainment'. In his fabulous show, Ricky does everything from a famous rags-to-riches number (his own!) to a tasteful strip tease production. Almost every night Ricky is visited by the stars he imitates, like Ella Fitzgerald, Josephine Baker, Jane Mansfield or Judy Garland.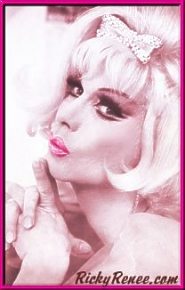 CABARET THE MOVIE... Ricky is top and staying on top. His flawless performances, always done in best taste, have made him endure as a Star. Whether in on of his many TV shows, on stage, or in movies like 'Project-X', 'Good by Gemini's', 'Il Mondo di Notte', 'The many Faces of Ricky Renée'. After 'Cabaret', with Liza Minelli in the leading part, Ricky achieved world fame over night.
GERMANY... Ricky tours throughout Europe, his actions speak louder than words. His heart beats for Cabaret's. 'As long as his audiences are happy, he's happy! Ricky advises new comers to work hard for stardom, and harder to remain a star.
RICKY RENÉE... a real entertainer, a survivor of the good old days, at the present future. And now ladies and gentlemen, Mesdames et Messieurs, meine Damen und Herren, I give you that schoene Fraeulein - RICKY RENÉE!
"What ever you do, do it wholeheartedly and you'll win!"